2018 Election Betting Odds are now being setup by all major online sportsbooks, and if you're a U.S. resident, I'm writing this guide to help you find the best place to bet on the 2018 election.  2018 isn't that far away, and both the Senate and House are poised for possible drama depending on the outcome. More than a few Republican seats could be switched, but a G.O.P pickup of seats isn't out of question either.  2018 is going to be exciting.  It could also win you some good money if you play your bets right.
Top Sportsbooks Offering 2018 Election Betting Odds
Believe it or not, many online
sportsbooks
don't allow U.S. Players.  That's why I've gathered the 3 best sites that allow U.S.  Every website we recommend accepts U.S. residents.  They also all allow Credit Card and bitcoin deposits.  All of them are  100 percent safe and legitimate,and with over 50 years of combined business experience, you never have to worry about getting paid when you win.  All offer competitive odds.  Best of all,
Bovada
,
BetOnline.ag
and
Intertops
all offer world class service.
I'll talk a little more about these sportsbooks later on.  In the meantime, let's talk about the current political climate.
The 2018 Election Betting Odds Aren't  Looking Good For Democrats. Here's a visual on how the Senate Races stack up for next year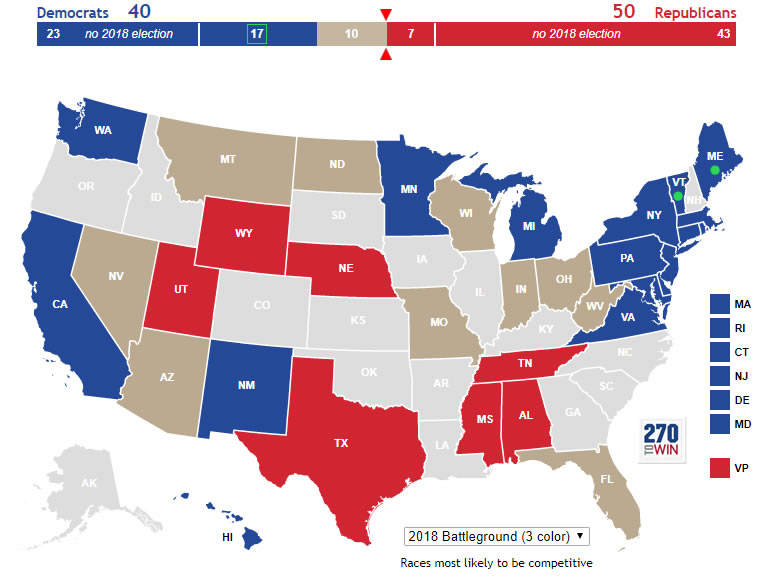 As you can see in this graphic (source), Republicans hold 52 seats in the Senate.  They have a simple majority, which has been unable to get many things passed.  If the G.O.P. looses one seat, Democrats could take control with 3 party flips in 2018.  That however, looks difficult, even in the current climate.  I'm writing this article in Summer 2017, and  something could happen tomorrow that renders this analysis out of date.  As of right now though, it looks tough for the Dems.
Here's a look at all the Republican Senate Seats Up in 2018:
Jeff Flake
Dan Hellar
Ted Cruz
Luther Strange
Roger Wicker
Deb Fisher
Bob Corker
Orrin Hatch
John Barrasso
Though that looks like a lot, all but 3 of those are relatively safe in the real world.  In order for the Democrats to take the Senate in this environment, they'd likely have to knock off Ted Cruz in Texas' Senate Seat.  If that happens though, it could signal a larger collapse for the G.O.P.
In order to keep it simple, I'm going to discuss the 3 Senators to loose their seat in 2018.  They are:
Jeff Flake from Arizona.
Dan Hellar , representing Nevada.
Ted Cruz –  Texas' firebrand Senator.
If we're talking general 2018 Election Betting Odds, this appears to be  bad news.  Incumbents almost always win.  In fact, since 1982, Incumbents have won 96% of their re-elections.  That's tough odds to start off with. In what could be an effort in futility, I'll lay out a scenario in which Democrats could take all 3.
The Democrats Need Trumps Help In Arizona in 2018
To begin with, Jeff Flake might not be the Republican nominee.  In what could have been a hint from Trump last week in  Phoenix, The President may try to primary Flake.  He's been praising Kelli Ward, a former State Senator, as of late.  His real favorite though, is likely Joseph Michael Arpaio, the now pardoned (thanks to Donald Trump), former Maricopa County Arizona Sheriff.   She's already declared her candidacy for 2018. Tea Party candidates, like Ward do a lot better in the primaries than they do in the General election.  In Fact, several Democrats owe their current seats to Tea Partiers taking out a Republican candidate that would have faired better in a Statewide race.
If Arpaio Wins The Republican nomination, 2018 Election Betting Odds May Turn Democrats' Way
Democrats are working from an actually strong bench in 2018.  Here are some names of potential candidates, and see if you recognize any names.
Mark Kelly, Astronaut and Gabby Gifford's Husband.
Janet Napolitano, Former AZ Attorney General and Homeland Security Director.
Greg Stanton, Mayor of Phoenix.
Kyrsten Sinema, U.S. Representative, Member of Blue Dog Coalition, and endorsed by the US Chamber Of Commerce.
Odds will surely be intriguing if all these potentials actually get in the ring. To be honest, facing pardoned Sheriff Joe Arpaio in a General election in 2018 may be a dream come true for Democrats.
2018 Election Betting Odds; Trump Could Sabotage Nevada
Dean Heller, the current incumbent, is in a bind.  Because he betrayed his president and ticked off his base with his vote on Obamacare repeal, he's earned the ire of our Commander In Chief. This has apparently led to a primary challenger that could go the way of Arpaio above.  Pro-Trump Danny Tarkanian, who is the son of famous U.N.L.V. basketball coach Jerry, has announced his candidacy for the seat.  If Trump's favorability ratings don't rise, this could cause another statewide flop in 2018,
Could Ted Cruz Become A Victim Of Latino Backlash?
Incumbent Ted Cruz is Latino.  So how, you ask, could he be the victim of a Latino Backlash. Because, he has not associated himself with Latino causes for most of his political career.  He's a Tea Party conservative that happens to be Latino.  The Castro brothers have both declined a run, as has Wendy Davis, so there won't be a likely Latino nominee.  That fact doesn't mean Latinos won't come out to show their anger at President Donald Trump.  Remember this, the party with the best turn out wins. Turnout can change betting odds quickly. Even though there hasn't been a swell of turnouts in post-trump races, the climate is moving in the right direction for this to be possible.  Even if remotely so.
Chances are that Democrats could pick up 1 or 2 Senate seats in 2018.  The third one is going to be very, very tough odds.  Betting could be treacherous, or payout loads. It's too early to tell. Keep up with the latest odds at your favorite sportsbook to stay the most up-to-date.
2018 House Of Representative Betting Odds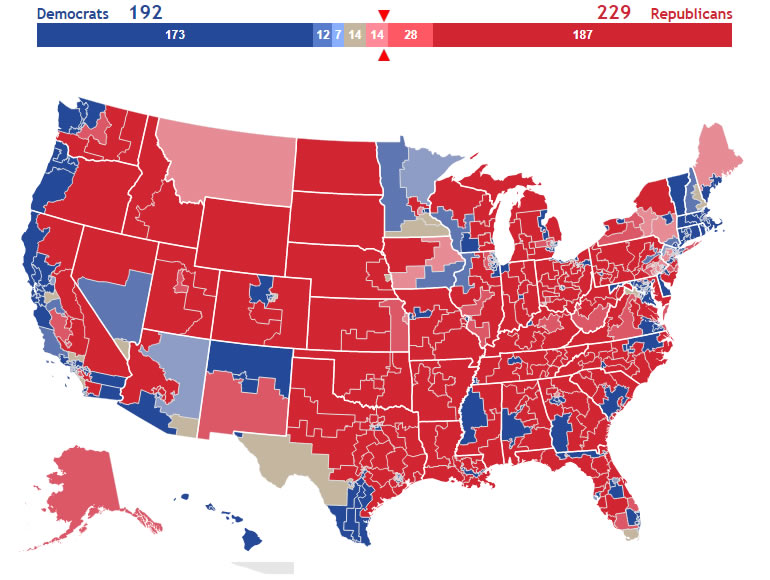 It might be an uphill climb for the Senate in 2018, and you think it would be the same in the House Of Representatives.  The vegas Oddsmakers, however, are at least a little optimistic about Democrats chances of taking over in The House.  Or at the very least, making a dent in the current Republican advantage.
Although it's a long-shot, it's a lot more likely we'll see a Democratic Speaker than a Senate Majority Leader.  The Political Analysts at Inside Elections list 45 Republican seats in play, but only 14 Democratic seats up for grabs.  Considering that The Republicans currently hold a 45 seat advantage, making it almost impossible to imagine, a wave election could wipe that deficit out quickly.  It's still a longshot, in my opinion, but I think it is more likely than Ted Cruz loosing the Texas Senate Seat to a Democrat.
Find a Good Sportsbook To Get The Latest 2018 Election Betting Odds
Throughout this article, I've referenced 3 online betting houses that offer odds on Political Propositions.  Between the three of them, you won't find a better set of online sportsbooks.  Best of all, each of them allow U.S. players, and accept Credit Cards for depositing.  Bovada, BetOnline.ag and Intertops all allow U.S. players, they're all 100% legitimate companies that honor their bets, and they all offer competitive odds.  They are also the only sites we recommend here at Betting Trump.  We could throw up 10 or 20 sites to send you too, but we wouldn't be able to honestly confirm their credentials and verify payment history as we were with these guys.  I know these guys pay what they owe, their customer service is world class, and they all allow American residents.  The rest is just semantics.
Bovada Is Our #1 Top Rated Sportsbook for 2018 Election Betting Odds

Bovada is a world-class betting house with over 20 years of experience in the gaming industry.  Because of this vast experience, they've developed the technical precision to not only make their software very user friendly, but extremely stable as well. Don't worry about software crashes.  If you have problems, contact support and they'll get you fixed up fast.
In all honesty, I could say the same thing about BetOnline.ag and Intertops.  The thing that sets Bovada apart, however is their large number of political propositions.  The most noteworthy thing about Bovada is the fact that they update their propositions, and regularly have more than a dozen political propositions open. As we get closer to 2018, the election betting odds will probably show up more on the other two, but for now, Bovada is our best recommendation.
Conclusion, Betting Odds for 2018 Are Just Warming Up
When you're looking at current 2018 Election Betting Odds, you're capturing a moment in time.  Because of the time between now and payoff, I'd say you may want to stick to the longshots for now.  As we move into the middle of next year, the bets will stabilize and the longshots you see now will likely be deleted.  Political betting is all about timing, after all.
No matter what you decide, how you decide the 2018 Election Betting Odds that best match how you're wanting to wager, remember to bet responsibly and never wager more than you're willing to loose.