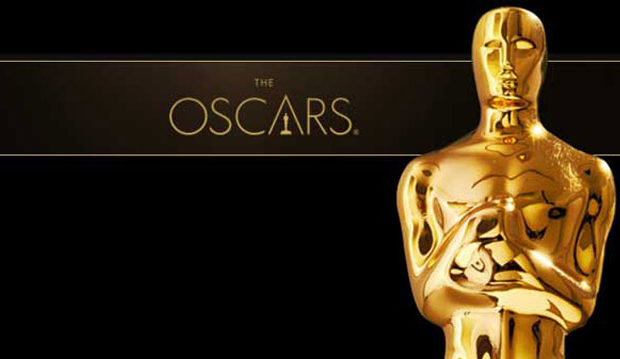 Here at Betting Presidents, we love Politics, but we have a special place in our hearts for what we call politics for pretty people.  I'm talking about acting and the Academy Awards.  The virtual Presidential election of acting is the hottest night for Hollywood, and like everything else that's popular, people are placing wagers.  In this article, we'll talk about the 2018 oscar betting odds, what they mean, and show you how to wager at one of our recommended gaming houses.
Even though you won't likely be able to travel to the Oscars in 2018, for me it's always a lot more fun to watch if you've got a couple of Presidents in the game.  You can't however, just go anywhere to find a safe place to wager on The Oscars.
Bet Early with the Best Odds for 2018 Oscars – Get a Bonus Here
Oscars 2018 Betting Guide
Let's start with the most important aspect of enjoying the 2018 Oscars when there's money on the line. You must pick the right website to place your wager.  Everybody we recommend at Betting Presidents is a legitimate business with over a decade of highly rated service to a worldwide clientele.  There are more than a few establishments that allow U.S. players, but we only feel comfortable linking to 3 and 4.  If you're looking for 2018 oscar betting odds, you're best bet is BetOnline.ag
As of this writing BetOnline offers several interesting props in the entertainment section of the sportsbook.  For instance, here are some bets that BetOnline.ag is offering as of January 30th, 2018 (click here for the most up to date oscars betting odds):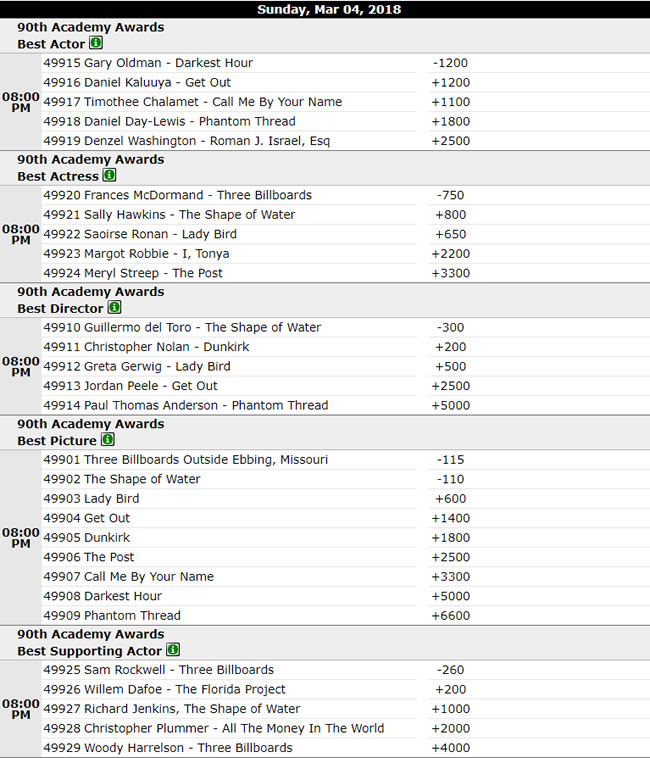 If you're looking for the biggest longshot on Oscar odds is Carey Mulligan and Brie Lawson, both getting +2200 odds.  What that means for betting is that for every $100 you wager, you win $2200.  If Larson or Mulligan don't win the Oscar,  you'd loose the $100 you'd wager.  But if you win…..  That's what long-shots do. When they win, people win big
2018 Oscar Betting Odds Explained
Maybe you're a little more conservative, and you want to go with Daniel Day Lewis for the Oscar at +500 odds.  That's a 5 for 1 return on investment if you win, and the oddsmakers think he has a better chance than anybody except Gary Oldman to take the Academy Award home.  Bet $100, and you'll take home $600 (including your initial investment.  It gets a little more complicated when the odds go negative
The only negative odds on the chart above is for Gary Oldman, who stands at -325 at the time of this writing at -225 as of December 28th.  That same $100 wager for Gary Oldman isn't going to yield much.  Unless you're just sure he's going to win and don't ming making chump change, consider another bet.
Timothee Chalamet is the biggest mover for 2018 Oscar Betting odds.  A few weeks ago, he was standing at +800, now he's at +500.  That means he's being taken more seriously by the Vegas bookmakers.  If you think he's got a chance there's a shot, it's worth $500 for every $100 you bet if you're right.  If you'd have bet two weeks ago, you'd have won $800 for every $100 wager.  Odds will continue to change.  That's why you need to act now!
Odds Are A Guide, But You Choose The Bet
If you've got $100 you want to invest and you're sure Oldman will win the Oscar for best actor, you're still looking at a 30% return on investment if you win.  Many professionals play the long-game, and a 30% return for a fairly sure thing is the kind of return you're stockbroker would salivate over.
If you're not a professional, you may be just looking for some fun, and an exciting wager on the Academy Awards makes the drama of the ceremony more palpable. Nobody can make the decision on who to pull the trigger for, but, we can help you find the best place to wager. If you are an American, we think BetOnline.ag is your best bet for betting on the 2018 Oscars.
We Recommend BetOnline for Entertainment Odds and Betting
BetOnline is a powerhouse in the online gaming industry and has been on the scene for over a decade.  If you win at BetOnline.ag, you will get paid.  You don't have to worry about whether they're legitimate or safe.  They are.  In fact, BetOnline is our number one recommended online destination for Entertainment betting. They allow American Players.  They accept credit cards AND Bitcoin.  You can't go wrong with BetOnline.ag. Read our full review on BetOnline here.
You ultimately make the decision on where you're going to deposit your money. We challenge you to try and find as many choices as you can.  We know, however that BetOnline is 100% legitimate and safe.  There aren't many gaming houses that accept U.S. players, and the number of good choices are limited. – Join BetOnline Now

Make your 2018 Oscars Wager Count
If you're new to the online gaming scene, don't feel like you need to go all-in on your first bet.  Maybe pick a winner from every Academy Award Category and wager $25 on each. BetOnline allows as small as a $1 bet, so you don't have to mortgage the house to wager.  No matter who you decide to use to bet on the 2018 Oscars, we hope you are successful.   I'm going with the favorites, but I'm pretty conservative with my wagers.  Maybe you'll be more aggressive.  Most important thing is to have fun.
More 2018 Oscar Resources
Official Academy Awards Website
Entertainment Weekly's Oscar Contenders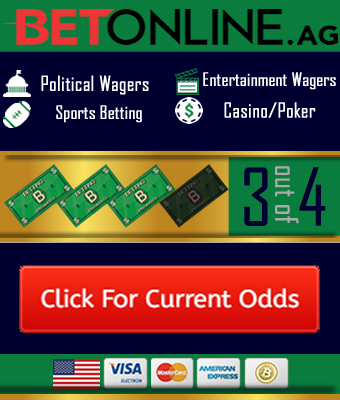 Image Credits Tiff, A24, MELINDA SUE GORDON/FOX SEARCHLIGHT, STEVE DIETL/NETFLIX
Hi I'm The Notorious CDG, this is my website and I like to bet on politics. You can bet along side me at my favorite political betting site
Bovada
. If you sign up now you can get up to a free $250 bonus. Learn more about Bovada
here in in my review
or see my short list of
best political betting sites for USA
here.