If you're looking to bet on politics, the 2020 Presidential Odds Bovada has available are always inline with their competing sportsbooks. The 2020 President Odds that Bovada offer list a wide variety of potential candidates. From the obvious contenders like Donald Trump to crazy like George Clooney, you've got lots of longshots in the field right now
Latest 2020 Presidential Odds Bovada Has Props For
Here's a screen shot of the 2020 Presidential odds at Bovada. Odds are current as of September 5th, 2018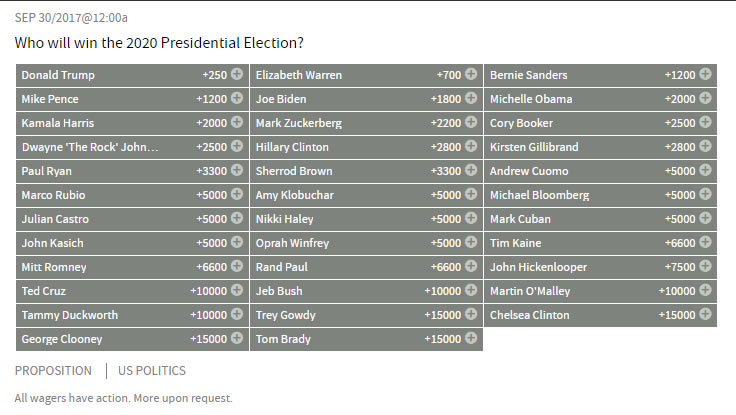 Because it is so early, odds are all over the place. If you're looking for 2020 Presidential Odds Bovada gives you 35 choices. Its no wonder, they're our #1 recommended sportsbook for political betting. Odds range from +250 to +15,000 (Clooney, Brady, Gowdy, C. Clinton). That's right if you bet $100 on Trump to win in 2020, you'll win $250 if you're right. If you pick the longshot, however, and bet the same benjamin, you'll pocket 15,100.00 including your original wager.
It may be early, but now is a good time to find those longshots at bovada while the odds are wild. If Kamala Harris, who's seriously been considered as a potential candidate that could beat trump, wins, and you bet now, you'd win $2,000 for every $100 you bet. Likewise, with Nikki Haley. She's +500 (50/1 with a less than 2% chance of winning), but she's a former Governor who's seen as someone who can get things done. A serious threat in any campaign. With her new experience as U.N. Ambassador, she could primary Donald Trump and win. Especially if The Democrats can't find a good candidate to run in 2020.
Trump's Still leading the 2020 Presidential Odds Race
Even though most gaming houses have President Trump at less than 50% chance of lasting a full term, he's still got the best odds of winning in 2020. Since Trump is so low in the polls, he may be bringing the whole field down with him. Even if the +250 odds Bovada is giving The President for 2020, they're still only giving him a 28% chance at winning in 2020. Of course, those are still better odds than Mike Pence. He's currently getting +1200 odds. Assuming Trump is Impeached, (which the Sportsbooks are doing), wouldn't The Vice President have a better than the 7% chance bookmakers are giving him? That could be the best longshot in the bunch.
Bovada Is Your Best Bet For 2020 Presidential Odds.
With the current 2020 Presidential Odds, Bovada is starting to lay out propositions for the election of 2020. There will be many more to come. 2018 Election Odds are getting hotter too. Bovada has a preponderance of political propositions that is #1 among U.S. residents. Bovada.lv is world renown for their online gaming. They have the premiere sportsbook for U.S. residents. Best of All, their political betting props are always substantial. There's always a good bet available at Bovada.
We recommend Bovada.lv over our other trusted sportsbook for just this reason. There are always more than a dozen political props. Finding the right one is easy with so many choices. Not to mention they have great customer service, a stellar payout rating and they accept Credit Cards for U.S. players.
Change Is Constant. This Is Especially True With Betting Odds
News will undoubtedly change all the odds listed above before the race is over. Fortunes will rise. Candidates will fall. The one this for certain are the odds as they stand right now. I will recommend this. Bet now, if you think one of the potential candidates will win. You may never have better odds again.
Hi I'm The Notorious CDG, this is my website and I like to bet on politics. You can bet along side me at my favorite political betting site
Bovada
. If you sign up now you can get up to a free $250 bonus. Learn more about Bovada
here in in my review
or see my short list of
best political betting sites for USA
here.