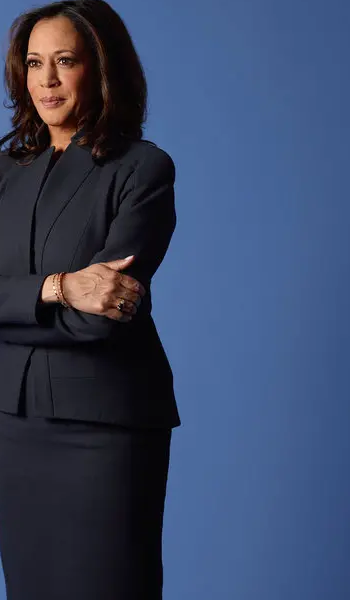 Senator Kamala Harris
2020 Presidential Election Odds

+1000



+1000


As we kick off the 2020 election cycle in earnest, I thought we should take an in-depth look at all the candidates that may challenge President Trump in 2020.  Since you'll likely start seeing those Kamala Harris 2020 bumper stickers start popping up soon, I figured we could start with her.  We're going to take a look at her biography, her political rise, some of her positions and why I think she's a good bet for winning the Democratic nomination in 2020.
Whether or not you support Kamala Harris for President, I think it would be a bad idea to ignore her chances for either grabbing the nomination or winning the Oval Office in a head-to-head matchup with current President Donald Trump.  On thing a Kamala Harris 2020 run would benefit from that Secretary Hillary Clinton never could.  That is a mobilization of the Obama coalition. Don't worry, we'll talk more about that later
Before 2020 – A brief history of Kamala Harris
Kamala Devi Harris is the daughter of an Indian mother, and a Jamaican father, both of whom have quite the resume themselves.  Her mother was a breast cancer researcher and her father was a college professor.  She was born in Oakland California.   Harris  moved to Quebec, Canada with her mother at age 7.  She did spend her high school years in Canada before moving back to The United States after graduation.
Related – Read Our 2020 Election Primer.  Who Wil Be Victorious In The Next Election?
Harris attended Howard University, and then the University Of California, where she earned her law degree.
After she graduated, she went into law enforcement, starting at the local district attorney level.  She gradually worked her way up the ladder. After some time, she turned her sights on the political side of things.
In 2003, she won the D.A. position in San Francisco.  Fast forward to 2010, when  she won the election for California Attorney General.
In 2016 she ran for, and won the California Senate Seat where she serves now.
Senator Harris is also a wife to Douglas Emhoff, and a mother of two.  Her husband is a businessman and lawyer, and is thought of as good First Husband material.
Kamala Harris 2020  Will She Run?
It appears that she will, though she has not announced, yet.  If she does, she'll likely be a front-runner for the Democratic nomination.  She is building a campaign as we speak.  Senator Harris has already been to Iowa several times.  Her presence in Iowa shows she's seriously considering a run.
She's also been making appearances in primary battleground of South Carolina.  While former Vice President Joe Biden has a head-start in the polls, her rise mirrors another black candidate that people ruled out this early in 2006; President Barack Obama.
Can Kamala Harris Win The Nomination, and General Election in 2020?
Speaking of Barack Obama, Harris could do something that previous nominee Hillary Clinton never could. Energize the Obama coalition.  President Obama turned out the black vote like it never had before.  Coupled with enough of the white vote to keep it close, he won twice in a country bitterly divided.  Harris could motivate that same coalition if she runs.  That could get her, at the very least, the Democratic nomination.
If she does win the nomination, she's going to have to depend on that Obama coalition if she wants to win.  President Donald Trump will attack Senator Harris like nobody has before.  he'll use every trick up his sleeve to downplay her successes, minimize her influence, and deflect from what would be a historic win.  In a country that's divided as much as The United States Of America is right now, any candidate is going to have trouble going toe to toe with President Trump.  I think Senator Kamala Harris might just have the best chance to do something Hillary Clinton could never do.  Beat Donald Trump.
Bet On Kamala Harris 2020 – Should You Pull The Lever
If you think she has a chance to win, it might not be a bad bet to place. Right now, my top  political betting website, bovada.lv has her sitting at +1000.  That means the vegas bookmakers are giving a successful Kamala Harris 2020 run a less than 10% chance of winning.  If you bet $100 on Harris to win with those odds, and she does, you'd win $1000.  As we get close to 2020, I'm willing to bet those odds are going to get closer to 30 or 40%.
If you want to bet on Harris for the 2020 election, I recommend using bovada.lv.  bovada is  a 100% legitimate sportsbook that will give you fair odds, and will pay-out if you win.  Read  our bovada political betting review here.
Bet On The 2020 Election