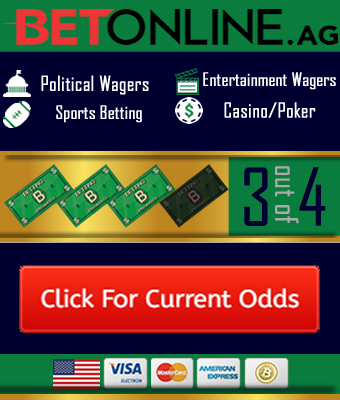 We've read other analysis on
BetOnline.AG
, one of the oldest, and well known sportsbooks online, but this one may be different.  This is our BetOnline.AG Politics Review.  Betting Presidents is a political site, and we'll be centering our review around
political betting
. If you're looking for a quick recommendation, BetOnline is a 100% legitimate, safe, and easy to use. You'll get your money if you win.  We'll give you a more detailed run-down below
In this BetOnline.AG Politics Review from Betting Presidents, we'll lay-out
Is BetOnline.ag Legitimate?
What Kind Of Political Bets They Offer
How To Make Deposits And How To Cash Out
How To Navigate To Political Props on BetOnline
Why We Recommend BetOnline.AG To Bet For Political Outcomes
Before we get started, we want to confirm that BetOnline.AG does allow U.S. based players to wager money on their site.  We'll go over this more in our Deposit and Cash Out section.  Now, let's discuss, what I think, is the most important part of the  BetOnline.AG Politics Review, whether or not the site is legitimate
Is BetOnline.AG Legitimate?
In a word, yes.  BetOnline.AG was founded in 2004 near the birth of the online gambling industry.  They have remained open continuously.   In the last few years, they have become one of the best gaming houses online, and have remained one of the few that allows U.S. players to wager.  If you win, you will get paid, unless you're caught cheating.  I have seen that they've suspended players accounts before. In most cases, however, we see that it was because they were doing something that was against the rules.  All sites have similar complaints, and it's hard to verify anything. We have used them and been paid, as have many of our friends.  For us, BetOnline.ag is 100% safe and legitimate.
Political Betting on BetOnline
Betting on political outcome is seasonal.  That means, that depending on when you go to BetOnline (or any sportsbook for that matter), you may have a lot of props to choose from, or very few.  Between cycles you'll see some action, but during an election year you may see dozens of political wagers available. In the last 3 months here are some of the Political propositions Bet Online featured:
Will Donald Trump be impeached by the House?
Will John Kelly be Chief Of Staff on Jan 1, 2018
Who's IQ is higher, President Trump Or Rex Tiller
Will Twitter Suspend @realdonaldtrump by Jan 1, 2018
Which Presidential Party Will Control White House in 2021
As 2018 and 2020 get closer, I expect to see a lot of different political props on BetOnline.
Navigate To Politics Wagers On BetOnline.AG
Now that you've read  the first part of our BetOnline.AG Politics Review, you know that the site is legitimate, allows U.S. players and offers a variety of political wagers. Lets get an account opened and make a  deposit.
Step 1: go to https://BetOnline.ag/ 
Step 2: Click the bet now button, and you'll be taken to the sign-up form. It looks like this.  Fill in the information and click Create Account (the red button lights up when the information is completed properly).
Step 3: Next you'll need to choose a currency.  BetOnline accepts many different currencies, but you'll likely choose either Credit card or bitcoin.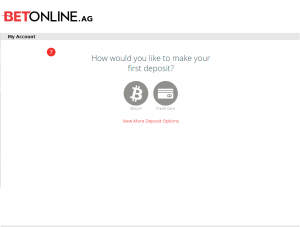 Step 4: The payment process is the same for any other website.  Enter your payment information as appropriate.
How To Navigate To Political Props on BetOnline
Once you've made it through the sign-up process, lets find the political propositions
Unfortunately, the only downside we can find on BetOnline.AG is that their political propositions are hidden.  Political wagering is a growing segment, and since BetOnline.ag is a sportsbook, this isn't their biggest money maker.  So we're going to show you how to navigate the politics section of the site, once you've finished this review, of course
Step 1: Get to the homepage.  To get to the homepage, anywhere on BetOnline.ag, you'll have to click the logo at the top left of the website.  Here's a screenshot from a pc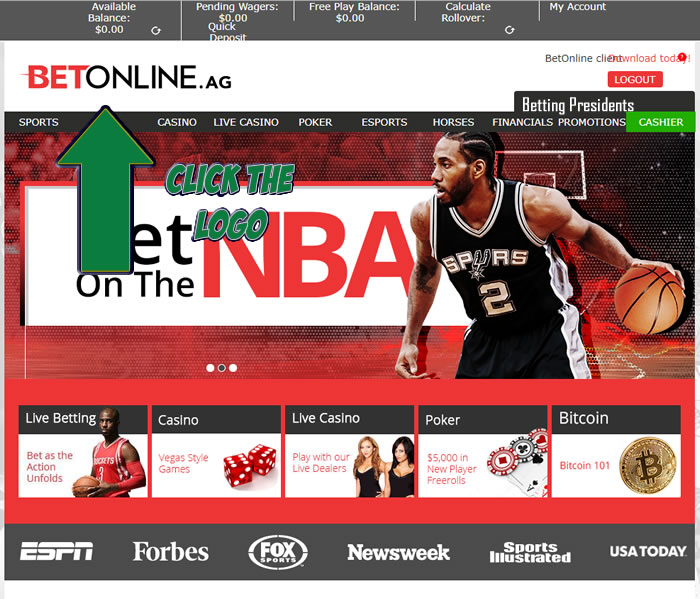 Once you're on the homepage, find the top menu and look for sports. As crazy as it sounds, click on the sports button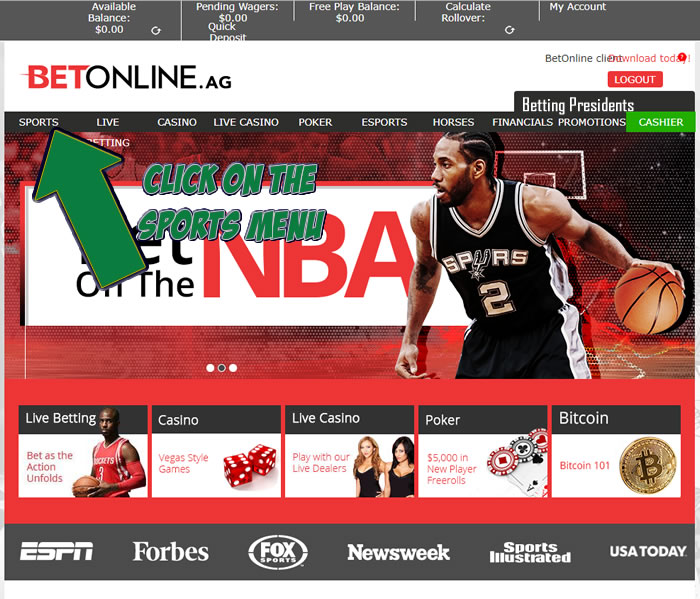 This will open a new page with a sidebar to the left.  Near the bottom of the first section look for the link "Features and Props".  Click That.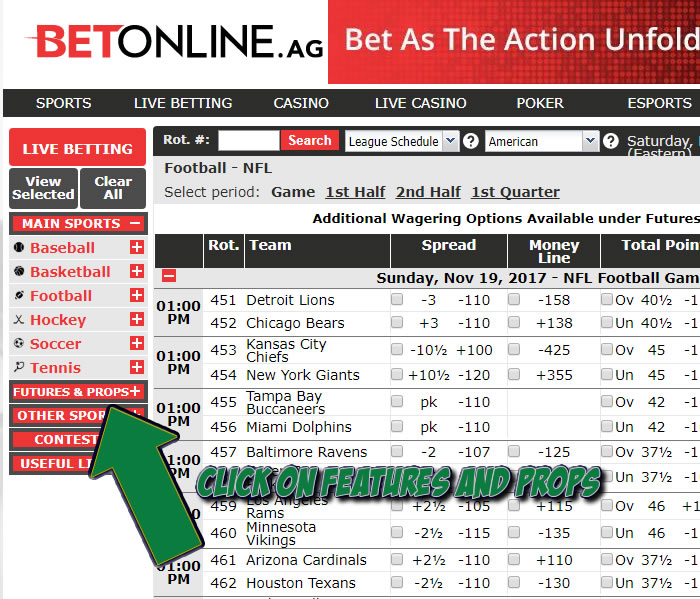 Next step on the journey is to find any political props open for betting.  Look on the left  under features and prop and after clicking, scroll down until you see politics.
Why We Recommend BetOnline.AG To Bet For Political Outcomes
The one line answer is because BetOnline.ag is 100% safe and legitimate, they allow U.S. players, and once you get the navigation of the site down, it's easy to wager.
One thing we like about BetOnline is their longevity. You can't stay in the online gambling industry long if you don't do things the right way.  They've had problems like all businesses do, but they responded in ways that kept their clientele satisfied.  You can really tell a lot about a company by it handles mistakes, and after some mis-steps in 20011, BetOnline.ag came back stronger than ever.  We've had nothing but good experiences with BetOnline, but nobody's perfect. Anytime we have problems with a website, we try to follow the process as much as possible. I'd say the same thing is true with BetOnline.  That's not advise that's limited to this BetOnline.AG politics review, it's a good idea most of the time.   The interaction we've had with them has been minimal, but professional.
BetOnline also has a wide variety of games outside of Political betting.  You can play at their casino. They have a lot of original video games, and as always there's poker.  Their sportsbook is also world renown.
BetOnline.AG Politics Review: The Conclusion
If you've read this far, you've read that  BetOnline.ag is legitimate, what kind of political bets they offer, how to make deposits/cash-out, navigating the site and why we recommend BetOnline.ag   With over a decade of gaming experience, and a willingness to accept U.S. based players, this is one of the safest and most fun ways to wager on the internet.
We can't make the decision to sign up for BetOnline.ag for you.  You are the only one that can make the final decision.   We've had good experiences with Bet Online, and we feel like you will too.  Sign Up For BetOnline.ag today.