While there are a growing number of online casinos that are offering political props as of late, nobody does it like one of the oldest online sportsbooks in the game.  That site is bovada.lv, and like just about every other facet of the sportsbook industry, bovada.lv politics is the best destination for political betting online.  They are the best, plain and simple.  bovada.lv is where I bet on politics (and I take advantage of their entire casino), and where I tell people to go first.  To be honest, if I wasn't writing this bovada.lv politics review, I'd probably be writing a review about bovada.lv's total package of online gaming.
The most important factor when I decide to recommend a site on Betting Presidents is their reputation. Not all sportsbooks are legitimate.  No matter how good the bonus is, sometimes its better to stick with a sportsbook that's been around. What's special about bovada.lv is that they've been in the business since 1994. That was back when I was a freshman in college!  bovada has managed to weather all the storms that the online gaming industry (and U.S. Government) has thrown at them, and they've done it with grace.  Their reputation is stellar. Bovada.lv politics is, by far, the cream of the online gaming crop.
Bovada.lv Politics – Why They Excel
While many sportsbooks have concentrated on making a lot of money fast, bovada has approached it differently.  They knew that if they consistently offered fair odds, on-time payouts and great customer support, they could build the best sportsbook.  Well, that's exactly what bovada has done, and the result is  that bovada politics is the best in the game.   They pay out when they are supposed to.  You won't find a complaint anywhere saying they didn't pay when they owe. Even back when they were bodog, they paid their bets.  When there is a problem, they work with you to fix it.  Of course, you also get the best interface (newly updated) around to place your wagers.  They even have a mobile site that makes placing your wager easy.
Another way that bovada excels is their ease of deposit and their attention to American players.  Their sister site, bodog caters to the European crowd, and that leaves bovada to pay full attention to U.S. players. What that means is that they cater their political props toward American bettors.  Sure, bovada.lv politics offers international props, but they focus on American politics.  As an example, you can always find a proposition for who will win the next Presidential Election at bovada.  They generally offer a variety of props around that subject year-round.
As elections get closer, bovada politics will offer even more propositions revolving around Senate, House, and sometimes even State level races.
As situations pop-up, bovada is usually there to offer a prop. In 2018, such as, they took wagers on what color dress Melania Trump would wear to the State Of The Union Address.  She wore a white pants-suit for posterity's sake.
Sign Up With Bovada.lv Today
I'll take it step by step. If you're just looking for the link and can figure it out from there, click here to visit bovada.lv and get the best possible bonus.  For those of you who like details and want to make sure you don't mess something up, lets look at a step by step guide on how to sign-up with bovada.lv politics.
Step 1: Go to bovada.lv politics page
Click this link to make sure you get the best possible bonus when you sign up with bovada politics.  From there, on a desktop you'll want to click the red button at the top right of the page.  There's a screenshot below.
If you're on a mobile device, signing up for bovada.lv politics is easy breezy.  The big red join button is a the top, at right of center.  Click it, and we'll move to step 2
Step 2: sign-up with bovada.lv
Once you've clicked the join button from the bovada.lv politics home page, you'll be directed to a sort-of pop-up box that will ask  you for your information. There's nothing on the bovada sign-up page that you won't find at any online retailer on the web.  You enter your name, address, phone number email, and setup a password.  Here's what that screen looks like
Once you get signed up, you're going to want to make a deposit  One of the main things we'll want to talk about when you are ready to sign-up for bovada politics is how to deposit.  bovada.lv accepts the following for deposits:
Visa
Mastercard
American Express
Bitcoin
If you're not familiar with bitcoin, and you plan on depositing at bovada politics, there is a lot of information on the internet, including the help section of bovada.lv.  You'll find you'll usually get the best bang for your buck on bonuses when you use bitcoin.  Once you've successfully navigated your way through the sign-up and deposit process, the real fun can begin
When you're ready to place your wager, navigate to the bovada.lv politics home page and choose your prop.  Here's an example of what one of their props look like.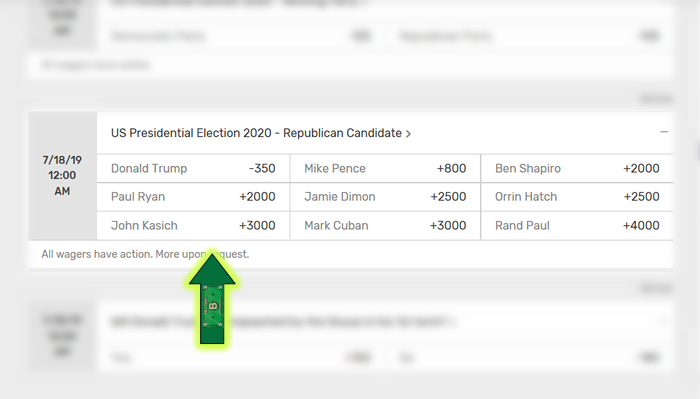 Click (or tap) the bet you want to make and you'll see that your betting slip will activate.   From there you can enter your wager and confirm your bet. congratulations, you've just placed your first bet at bovada.lv politics.
Bottom Line Is This: Bovada.lv politics is #1
I love bovada politics, and play there myself. You can always find something to get into at bovada, and even when political betting is slow, you can find a good prop to entertain you while you wait to find out if your wager paid off.  Hang out with the slot machines.  You can  play a bit of Texas Hold 'Em with some of the best players on the planet. The best part is, with bovada.lv politics, you know you'll always get paid when you're supposed to.