Attorney General Jefferson Beauregard Sessions, former Alabama Senator, and the current head of the Department of Justice was the talk of the town last month regarding the possibility of President Donald Trump giving him the pink slip. Although the talk has died down, the oddsmakers at popular gambling sites like Bovada, still think there's a possibility that come January 1, 2018, Sessions will be out
As of the publishing of this blog, the likelihood of his removal are given nearly even odds. Want to put $100 on him being gone by first of the year, you'll win $62.50. Think he'll be there in his current role as Attorney General? Pony up $100, and you'll win $120 if you're right. If the current circus that is the executive branch gets crazier, you might see these odds jump one way or the other.
Betting Sessions will get the axe before Jan 1 is a risky proposition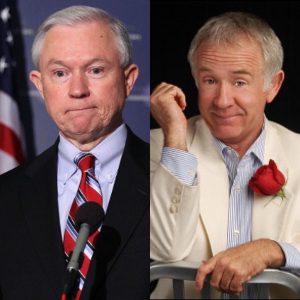 The Attorney General, who I affectionately call Senator Beverly Leslie, was the first elected official to publicly support the real estate mogul, and it has never waned, despite The President taking several shots at Sessions over the last month. He all but accused the AG of knowing he'd recuse himself regarding the Russian Collusion investigation before he accepted the position. Fellow conservatives, however had been steadfast in his defense, including Rush Limbaugh.
Claims of fake news aside, Sessions has the full support of the conservative wing of the Republican Party, which is pretty much the base of the G.O.P. These are the people President Trump absolutely needs to keep happy, considering polls showing everybody else cooling off on the billionaire.
Before you place your bets on Sessions staying, consider that the door swings both ways. The wager mentioned above isn't about whether Sessions will be fired, but rather, will he be Attorney General on the first day of 2018. It's very possible that Jefferson Sessions decides that he'd rather leave the job rather than stay under what may be undocumented pressure from the White House to get him to leave. There are plenty of back-channels in motion all the time in Washington, and after a warning from Limbaugh (and it was), he may decide to take a possible campaign to remove the AG underground.
If I was betting on whether Jeff Sessions will be the Attorney General on January 1st 2018, I'd put my money on him being right where he is on that fateful day. What are your thoughts?
Hi I'm The Notorious CDG, this is my website and I like to bet on politics. You can bet along side me at my favorite political betting site
Bovada
. If you sign up now you can get up to a free $250 bonus. Learn more about Bovada
here in in my review
or see my short list of
best political betting sites for USA
here.