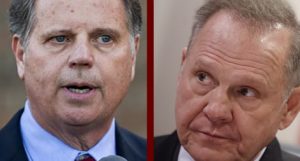 You can now bet on the U.S. Senate race, and if you can't make it to Vegas by Tuesday, that's okay.  Many online casinos are taking wagers on which candidate will win the 2017 Alabama special election.  Ladbrokes, Paddy Power and others will take your money in Europe, but won't allow U.S. players to bet on the Alabama Senate Race.  However, other online sportsbooks like BetOnline do take wagers from American based players.
Would you bet money on Roy Moore winning the U.S. Senate seat coming up on Tuesday?  If not, would you put money on Doug Jones winning the Alabama Senate seat?
Bet now with the best betting odds on the AL Senate Race – Get a bonus here.
Whether you want Roy Moore or Doug Jones to win the seat, that might not be who you think will win.  Do you have a keen political eye?  Think you have an uncanny ability to pick election winners?  If so, the 2017  Alabama Senate race still might be a challenge for even the most seasoned armchair prognosticator.
Alabama Senate Race Betting Odds
BetOnline is listing Judge Roy Moore at -300 and Jones at +250.  That means for every dollar you bet on Roy Moore, you'll win 33 cents.  If you bet on Doug Jones to win the Alabama Senate race, you'll win $2.50 for every dollar you wager.
With a 33% return on investment for Roy Moore and a 250% return on Doug Jones, the longshot is obvious.  Roy Moore's odds, however still represent a decent return on investment.  Show me a stock that gives you that kind of return in less than a week.
Alabama Senate Race Analysis from Betting Presidents
I don't care what the polls say, this race is about one thing; Turn-out.  If Doug Jones, a former U.S. Attorney can get his base, particularly the minority and women vote, he'll win.  Jones will need a mid-cycle level turn-out, I believe in order to secure the seat.  Since Roy Moore has a naturally larger base, the impetus is going to be on Jones to get his supporters to the polls.
Roy Moore, however, has a larger natural base, a President that's popular in the state campaigning for him, and the Right Wing media colluding to minimize the sexual perversion claim of several women.  The Republicans are magnificent at turning the tables on their weakness and using it to their advantage, and even though I think it's personally sick, they've done a better than expected job at keeping the base with him and even somewhat energized coming down the home stretch.
Betting Presidents analysis: Unless you start hearing about massive turn-out on election day, the best bet on the Alabama Senate race is probably Roy Moore.  Although the bookmakers agree with our assessment, if you disagree, you could collect a whopping $250 in wins for every $100 you bet.
Where To Bet On The Alabama Senate Race
Our top recommended site is BetOnline for the Doug Jones, Roy Moore Senate race.  They're 100% legitimate and safe, and they allow U.S. players to deposit using bitcoin or even credit cards.  BetOnline has over a decade of online gaming experience and a stellar record of paying what they owe.  You can also get a great bonus when you join.
Here's a quick video showing you how to navigate to the politics page on BetOnline
In conclusion, it doesn't matter who you want to win. It's who you think WILL win.  This is about real money and although you may have your heart with another candidate, you need to put your bet on the horse that you thing will win the race.  There's not much time left for wagers, so act now.
More On The 2017 Alabama Senate Race
AL.com's coverage of the Alabama Senate Race